A
B
E
F
I
J
L
M
N
O
Q
R
S
U
V
W
X
Y
Z
#
Drain cleaning cable or chemical pipe cleaner?
If the drain is clogged and the water does not drain away, the chemical drain cleaner is often not far away. A chemical drain cleaner is chosen for simplicity's sake: Just pour it down the drain, wait, and you're done. But this supposedly simple application is associated with major disadvantages.
How chemical drain cleaners work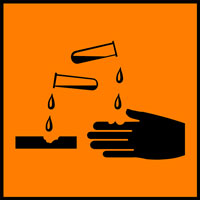 In order to understand these disadvantages, it is first necessary to explain how a chemical drain cleaner works. The cleaner is viscous and consists of a highly concentrated lye. This lye is corrosive; it decomposes and destroys organic tissue. Organic foreign bodies such as hair, skin particles or food residues can be decomposed in the pipe. The first danger point is already visible: chemical drain cleaner also attack your own organic tissue. Contact with skin and eyes results in severe burns! Eyes and skin areas are often irreparably damaged. When handling chemical pipe cleaners, suitable gloves and protective goggles should therefore always be worn.
No chemical drain cleaner for total blockage
You should never use a chemical drain cleanerif your drain is so clogged that no water runs out at all. If the drain cleaner does not remove the blockage, the highly aggressive liquid will be in the pipe. This makes all other drain cleaning attempts, such as using a drain cleaning cable, dangerously difficult. When using a drain snake, splash water always occurs due to the rotation. Therefore never work with a drain cable in the highly aggressive liquid. You risk unintentional contamination with the lye and thus serious burns to your skin and eyes. If you call a professional drain cleaner or other persons for help, it is essential to inform them that a chemical drain cleaner has already been used and is still in the pipe, either completely or diluted.
Environmental poison of chemical drain cleaner
Even if the chemical drain cleaner does its job, try to avoid it if possible - for the benefit of your environment. Always remember: the highly aggressive lye will be flushed out of your pipe by you, but it will then migrate through the sewerage system and, in the worst case, end up in the ground or in a stream. There it can cause severe environmental damage to flora and fauna.
Drain cleaning cable instead of chemical drain cleaners
Why would you prefer to use a drain cleaning cable or a drain cleaning device? The answer is quite simple: simply out of love for the environment. In addition, a drain cleaning cable is much more efficient because the drain cable tool at the end of the drain snake can immediately work on and remove the pipe blockage. The mechanical action makes it easier to loosen and remove blockages. Consider the following: Would you place your heavily soiled dishes in a sink with aggressive detergent for cleaning, and then rinse the dishes with water only without a brush or sponge and place them in the cupboard? The result is not comparable to the use of a dishwashing brush, which carries out a mechanical treatment of the dishes and the dirt particles on them. Or do you skip mechanical cleaning of your teeth with a toothbrush and instead work with mouthwash only?
Applied to your drain plugging, this means that an ideal cleaning of the pipes always involves mechanical drain cleaning by a drain cleaning device, a drain cleaning cable or drain snake.
Therefore, clean your blocked drain highly effectively, quickly, thoroughly and environmentally friendly with a drain cleaning cable or a drain cleaning device - for the sake of your pipes, the environment and your own health.
Suitable drain cleaning devices and drain cables
Here we show you a selection of suitable drain cleaning devices and drain snakes which are particularly suitable for drain cleaning at home. If you need help with the selection, simply write to us via our contact form, we will be happy to help you!