A
B
E
F
I
J
L
M
N
O
Q
R
S
U
V
W
X
Y
Z
#
How do I find the right length of a drain cleaning cable?
Rohrreinigungsspiralen sind in vielen Längen verfügbar. Es existieren kleine Rohrreinigungswellen, die nur 30-40cm lang sind, Spiralen mit 3m, 5m und 10m Länge, bis hin zu Spiralen mit 15m oder gar 20m Länge. Längere Rohrreinigungsspiralen verfügen immer über einen größeren Durchmesser, da sie ansonsten nicht über ausreichend Stabilität verfügen und sich verformen. Weitere Erläuterungen zum Durchmesser finden Sie in diesem Beitrag.
Länge der Rohrreinigungsspirale: so lang wie nötig, so kurz wie möglich
Es stellt sich die Frage, welche Länge bei der Auswahl einer Rohrreinigungsspirale, auch Rohrreinigungswelle genannt, denn ideal ist. Die Antwort lautet: so lang wie nötig, so kurz wie möglich. Keinesfalls ist es jedoch so, dass die maximal verfügbare Länge einer Rohrreinigungswelle am besten ist, weil man damit ja "genug Reserve" hat! Warum dies so ist und wie Sie die ideale Rohrreinigungsspirale finden, erklären wir Ihnen im Folgenden.
Die Rohrreinigungswelle sollte immer etwas länger sein als der Weg von der Rohröffnung, in die Sie die Rohrreinigungsspirale einführen, bis zur Verstopfung. Was zunächst trivial klingen mag ist jedoch nicht selbstverständlich, da eine Rohrreinigungsspirale auch zu lang sein kann: Bedenken Sie, dass eine einfache Rohrreinigungswelle offen liegt und immer in voller Länge ausgelegt werden muss. Falls Sie eine Spirale wählen, die deutlich länger ist als der Weg bis zur Verstopfung, müssen Sie diese in Ihren entsprechenden Räumlichkeiten - meist im Badezimmer oder in der Küche - auslegen. Rohrreinigungsspiralen werden aber in aller Regel schmutzig, und der Stahl der Spirale verkratzt leicht wertvolle Fliesen und hochwertige Küchenböden.
Außerdem können Sie, falls das einmal notwendig wird, auf eine zu lange Rohrreinigungswelle schlecht Druck bringen, wenn diese, weil sie zu lang ist um ganz eingeführt zu werden, über Ihren Boden im Raum verteilt liegt. Kurz gesagt: Eine zu lange Spirale wird schnell unhandlich. Daneben besteht das Problem, dass sich eine offen liegende Spirale sehr einfach überwirft, viel einfacher, als wenn Sie im Rohr ausgelegt ist. Bedenken Sie zudem, dass eine längere Spirale ein höheres Gewicht hat, welches Sie über die Handkurbel antreiben müssen.
Tiefe der Rohrverstopfung und Vorteil eines Rohrreinigungsgeräts
Idealerweise verwenden Sie daher ein Rohrreinigungsgerät. Wieso dies viele Vorteile hat, lesen Sie in unserem Ratgeber "Rohrreinigungsgerät oder Rohrreinigungsspirale?". Gerade bei der Rohrreinigung im Außenbereich bietet es sich alternativ an, mit Verlängerungen zu arbeiten.
Wie Sie herausfinden, welche maximale Länge Sie bis zur Rohrverstopfung überwinden müssen, erklären wir Ihnen in unserem Beitrag "In welcher Tiefe sitzt die Rohrverstopfung?".
Sie sind sich trotzdem nicht sicher, welche Länge der Rohrreinigungswelle Sie benötigen? Schreiben Sie uns doch einfach über unser Kontaktformular, wir helfen Ihnen gerne weiter!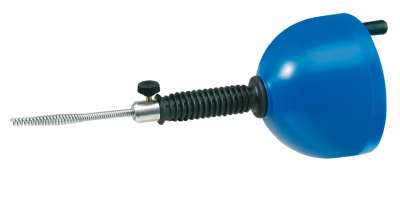 Drain cleaning tool with cable 6mm x 4,5m & drill connector
The perfect drain cleaning tool with hand crank and drill connection - Rohr Perfekt Mini by E&R! The manual drain cleaning tool "Rohr Perfekt" from E&R is the ideal gear for the removal of pipe blockages. The mini variant...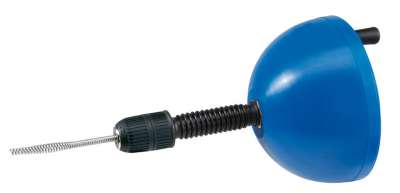 Drain cleaning tool "Rohr Perfekt" midi with drain cable 8mm x 7,5m
The perfect drain cleaning tool with hand crank and drilling machine connection - Rohr Perfekt Midi from E&R! The manual pipe cleaning device "Rohr Perfekt" from E&R is the ideal drain cleaning tool for removal of pipe...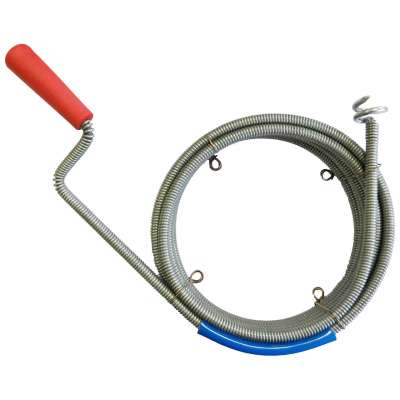 Drain cleaning cable Ø 9mm with drill head
Use this drain cleaning cable to remove drain blockages in the household between siphon and downpipe! The drain cleaning cable with drill head wraps paper, wet wipes, hair, textiles etc. so that they can be pulled out of the pipe...