A
B
E
F
I
J
L
M
N
O
Q
R
S
U
V
W
X
Y
Z
#
Gurgling drain - what can I do?
Gluckender Abfluss? – Das Wichtigste zuerst!
Ein gluckernder Abfluss ist kein Notfall für den Rohrreinigungsdienst, der sofort behoben werden muss! Beachten Sie dies, wenn Sie einen Rohrreinigungsdienst kontaktieren, um Notfall-, Nacht- und Wochenendzuschläge zu vermeiden!
Warum gluckert der Abfluss?
Gluckernde Geräusche im Abfluss sind ein typischer Indikator, dass das Abwasser nicht mehr richtig abfließen kann. Das Gluckern kann bei unterschiedlichen Situationen und in unterschiedlichen Abflüssen auftreten: Mal blubbert das Waschbecken, wenn Sie den Stöpsel ziehen, und mal die Badewanne, wenn Sie Ihr Badewasser ablassen. Es kann aber auch vorkommen, dass bspw. der Abfluss im Waschbecken Ihres Badezimmers gluckert, während die Dusche läuft. Oftmals tritt auch ein unangenehmer Geruch auf. Ein gluckernder Abfluss ist für Sie ein Alarmsignal für eine eintretende Rohrverstopfung, aber noch kein akuter Verschluss des Abwasserrohrs.
Das Glucker-Geräusch im Abfluss entsteht durch aufsteigende Luftblasen, die an der Oberfläche der Wassersäule zerplatzen. Letztendlich ist es das gleiche Prinzip, wie wenn Sie eine Wasserflasche auf den Kopf stellen und leeren. Das Gluckern ist grundsätzlich harmlos, deutet aber auf ein größeres Problem im Abflussrohr hin und sollte daher nicht ignoriert werden.
Die Ursache für gluckernde Geräusche im Abfluss ist in der Regel eine teilweise Rohrverstopfung. Ein Gluckern tritt besonders dann auf, wenn eine größere Menge Wasser auf einmal in das Rohr fließt, wenn also bspw. der Stöpsel von Waschbecken oder Badewanne gezogen werden. Der Rohrdurchmesser ist durch eine teilweise Rohrverstopfung verringert, so dass der Austausch zwischen Wasser und Luft nicht mehr richtig funktioniert.Stellen Sie sich eine durch Verstopfung verursachte Engstelle im Rohr vor: Das abfließende Wasser muss sich hindurch quetschen und staut sich davor zu einer Wassersäule, die auf die darunter liegende Luft drückt. Der gestiegene Luftdruck sucht sich einen Weg durch das Wasser eines Siphons, steigt durch ihn blasenförmig nach oben auf und die Luftblase zerplatzt an der Wasseroberfläche. Das dabei charakteristische "Blubb" ist im Abfluss hörbar, wie das folgende Video verdeutlicht.
Da die Rohrverstopfung auch tiefer im Rohr sitzen kann, steigt die Luft unter Umständen an einem mehrere Meter vom fließenden Wasser entfernten Abfluss auf. Dies erklärt, weshalb Ihr Waschbecken gluckern kann, während die Dusche läuft: Der Stau entsteht hinter dem Punkt, in dem Dusche und Waschbecken zusammen in das Abwasserrohr fließen, die aufsteigenden Luft entweicht z.B. über den für die gestaute Luft besser gelegenen Ablauf im Waschbecken, weshalb dieser gluckert. Die entweichende Luft kann den Geruch von Abwasser tragen, so dass sich in der Folge oftmals Gestank im Raum verbreitet.
Wie beseitige ich das Gluckern des Abflusses?
Um ein Gluckern des Abflusses dauerhaft zu beseitigen, muss das Rohr gereinigt werden, so dass das Abwasser wieder problemlos abfließen kann. Die Abwasserrohre setzen sich mit der Zeit oft mit Ablagerungen wie Kalk, Seifenresten, Fett und Öl zu, die den Durchmesser des Rohrs nach und nach verringern. Es kann aber auch eine akute, partielle Verstopfung des Abwasserrohrs durch bspw. Papier oder Feuchttücher vorliegen.
Orten Sie die Rohrverstopfung nach einfachem Prinzip: Beginnen Sie mit der Rohrreinigung am Abfluss, an dem Sie das Gluckern am lautesten hören! Dieser ist der Verstopfung am nächsten.
Läuft Ihre Dusche schlecht ab, und gleichzeitig gluckert ihr Waschbecken dabei, kann die Verstopfung nur hinter der Stelle liegen, an dem die Abwasserleitungen von Waschbecken und Dusche schon zusammengeführt wurden. Sie können sich also den Weg von der Dusche bis zum Waschbecken sparen und direkt am Waschbeckenabfluss beginnen. Entfernen Sie den Siphon, um in das in der Wand verlaufende Rohr zu gelangen. Wie Sie bei der Rohrreinigung am besten vorgehen, erklären wir Ihnen in diesem Ratgeber-Beitrag.
TIPP: Reinigen Sie das Rohr am besten mit einer Rohrreinigungsspirale: Gluckernde Abflüsse zeigen, dass es innerhalb des Rohrs zu einem Stau des Wassers kommt. Setzen Sie chemischen Rohrreiniger ein, wird auch diese Flüssigkeit im Rohr gestaut, und fließt unter Umständen nicht ganz ab, sondern bildet "Rückstaubecken". Müssen Sie nun eine Rohrreinigungsspirale einsetzen, kommen Sie schnell mit der stark ätzenden Chemikalie in Berührung und riskieren schwere Haut- und Augenschäden!
Haben Sie mit der Rohrreinigungsspirale keinen Erfolg, ist es vermutlich notwendig, einen Rohrreinigungsdienst zu bestellen. Oftmals wird das Gluckern des Abflusses durch über Jahre mit Kalk, Urinstein oder andere harte Verkrustungen zugesetzte Rohrwandungen verursacht. Diese Inkrustierungen sind oftmals nur vom Profi mit einer Rohrreinigungsmaschine und speziell dafür vorgesehenen Rohrreinigungswerkzeugen wie Fräser und Kettenschleudern zu beseitigen.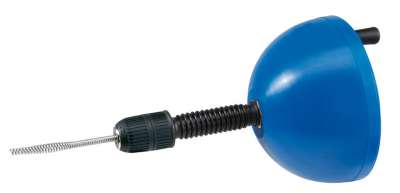 Drain cleaning tool "Rohr Perfekt" midi with drain cable 8mm x 7,5m
The perfect drain cleaning tool with hand crank and drilling machine connection - Rohr Perfekt Midi from E&R! The manual pipe cleaning device "Rohr Perfekt" from E&R is the ideal drain cleaning tool for removal of pipe...
Drain cleaning cable 8mm x 1.4m with brush for drain & siphon
Use the drain cleaning cable with brush to clean your siphon or drain in bathroom and kitchen! The drain snake has a drill head at the end, which effectively removes small blockages such as paper or hair. To do this, the twisted brush...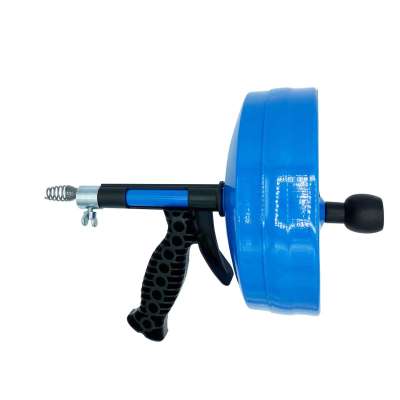 Drain cleaning tool with drain cable 6,4mm x 7,5m
Brief information and application notes: ? drain cleaning made easy: This drain cleaning tool has a drain cable with a diameter of 6.4mm and a length of 7.5m. Use it to clean your clogged drain quickly and easily yourself ? Wide...