A
B
E
F
I
J
L
M
N
O
Q
R
S
U
V
W
X
Y
Z
#
Drain stinks - what to do?
Warum stinkt der Abfluss?
Die Ursache für Gestank aus dem Abfluss ist trivial. Abwässer enthalten Fäkalien, Speisereste und andere organische Substanzen, die faulen oder gären und dabei die typischen unangehmenen Düfte verströmen. Abwassersysteme sind so konzipiert, dass sie über natürliche oder künstliche Geruchsbremsen verfügen. Diese verhindern, dass der Gestank aus dem Rohr austreten und sich in Räumen verbreiten kann. Ein Geruchstop bildet also eine für Gestank (in Gasform) undurchdringliche Barriere.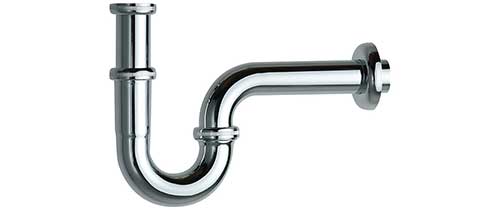 Der einfachste, natürliche Geruchsstopp befindet sich im Siphon. Durch seine U-förmige Form verbleibt immer etwas Wasser im unteren Teil des Us, also im 180-Grad Bogen. Diese Wasserbarriere verhindert, dass der Geruch aus dem Rohr aus aus dem Ablauf im Waschbecken diffundiert. Der Geruch kann das Wasser nicht durchdringen, kann sich aber darin mit der Zeit lösen.
Stink Ihr Abfluss heißt das nichts anderes, als dass ihr Geruchsstop nicht funktionsfähig ist: Ohne die Barriere verbreitet sich der Mief aus dem Rohr über den Abfluss in Küche, Bad oder Toilette ungebremst im Zimmer. Eine weitere, seltenere Möglichkeit ist, dass Ihre Abwasserleitungen beschädigt sind. Dadurch kann Abwasser unbemerkt aus dem Rohr austreten und beispielsweise in der Wand und im Putz versickern. Dieser Prozess kann auch über einen sehr langen Zeitraum entstehen, wenn es sich um ein sehr kleines Loch handelt, durch das nur geringe Mengen Abwasser beim Spülvorgang austreten. Ein Loch in der Abwasserleitung ermöglich es den Faulgasen zudem, aus dem Rohr auszutreten.
Eine weitere Ursache für Gestank im Abfluss können Verschmutzungen im kleinen Stück zwischen dem Ablauf in Ihrem Waschbecken und dem U-Teil des Siphons sein. Dort können Haare am Abflussstopfen hängen, Speisereste kleben, etc.
Auch eine Rohrverstopfung kommt als Ursache für Abflussgestank in Frage: Fließt ihr Wasser schlecht ab sondern sickert eher, werden vor allem die an der Oberfläche schwimmenden Bestandteile und Partikel des Abwassers nicht ins Rohr gespült, sondern schwimmen auch im U-Teil des Siphons an der Oberfläche und können Gestank verbreiten. Fließt der Abfluss ungebremst ab, zieht es das Abwasser aus dem Waschbecken durch den Siphon ins Rohr, so dass sich im U-Bogen nur Frischwasser befindet, das als Geruchsstopp dient.
Das Ergebnis ist in allen Fällen gleich: Sie haben den typischen, unangenehmen Abflussgestank in Ihrer Wohnung.
Wie kann ich Abflussgestank beseitigen?
Stinkt ihr Abfluss, ist die wahrscheinlichste Ursache der fehlende natürliche Geruchsstopp des Siphons. Wie beschrieben, steht im U-Bogen des Siphons immer eine Restmenge Frischwasser, um Gerüche aus dem Rohr in der Wand zu blockieren. Wird das Waschbecken, die Dusche, Wanne oder Toilette wenig genutzt, nimmt der Wasserstand im Siphon durch Verdunstung stetig ab. Der Wassserstand kann dabei soweit sinken, dass die Geruchsbarriere verloren geht: Der Gestank des Rohres kommt am Wasser vorbei und aus dem Ablauf heraus. Dies passiert besonders häufig in Bodenabflüssen, die oft wenig genutzt werden, wie beispielsweise in Waschküchen und anderen gefließten Räumen. Kräftiges Spülen mit Wasser hilft also bereits: Der wieder angestiegene Wasserstand im Siphon verhindert die Ausbreitung des Miefs. Der Gestank bleibt dort, wo er hingehört: Im Rohr.
Parallel sollten Sie immer das kleine Rohrstück zwischen Ablauf im Waschbecken und U-Teil des Siphons reinigen. Nehmen Sie im Waschbecken den Abflussstopfen heraus und reinigen Sie ihn, z.B. mit einer ausrangierten Zahnbürste, und ebenso die Rohröffnung. Meistens setzt sich dort mit der Zeit schmieriger Schmutz ab, der einfach entfernt werden kann. Verkalkungen nerven zwar, verursachen aber keinerlei Gestank. Tipp: In Küchenspülen verschmutzen oft die Abläufe der Abtropfseite und sind der Übeltäter bei Gestank. Diese lassen sich oft nur schwer mit einer kleinen Bürste reinigen. Alternativ können Sie auch mit Chlorreiniger arbeiten (Sicherheitshinweise des Reinigers beachten).
Hat dies nichts gebracht und läuft ihr Abfluss generell langsam ab, liegt vermutlich eine Rohrverstopfung vor. Verwenden Sie eine Rohrreinigungsspirale oder ein Rohrreinigungsgerät, um die Verstopfung zu beseitigen. Wie das funktioniert erklären wie Ihnen unserem Beitrag zur richtigen Verwendung einer Rohrreinigungsspirale. Verzichten Sie aus den in diesem Beitrag genannten Gründen auf chemische Rohrreiniger.
Stink ihr Abfluss nach wie vor, kann es sich um eine ernste Beschädigung ihrer Abflussleitungen handeln. Abflussgestank kann und darf in einem korrekt installierten Abwassersystem nicht auftreten. Rufen Sie daher am besten einen Fachmann zur Hilfe. Profesionelle Rohr- und Kanalreiniger können Nenbelmaschinen und Farbstoffe einsetzen. Diese lassen gas- und flüssigkeitsdurchdringbare Stellen im Abwassersystem sichtbar werden.
Drain cleaning cable 8mm x 1.4m with brush for drain & siphon
Use the drain cleaning cable with brush to clean your siphon or drain in bathroom and kitchen! The drain snake has a drill head at the end, which effectively removes small blockages such as paper or hair. To do this, the twisted brush...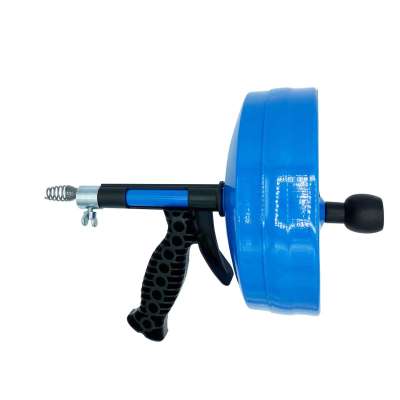 Drain cleaning tool with drain cable 6,4mm x 7,5m
Brief information and application notes: ? drain cleaning made easy: This drain cleaning tool has a drain cable with a diameter of 6.4mm and a length of 7.5m. Use it to clean your clogged drain quickly and easily yourself ? Wide...